PASSEPIED to release first single of 2015!!
"TOKINOWA" includes tie-up tunes and a cover
English / French / Traditional Chinese
▲PASSEPIED - TOKINOWA(RIN-NE ver.)
PASSEPIED recently announced their first ever live concert at Nippon Budokan,
the band is more active than ever this year.
Their first single release to kick off 2015 is "TOKINOWA", it's been 10 month since they released the major 2nd full album
"MAKUNOUCHI-ISM". "TOKINOWA" is featured as the ending theme of NHK E-TV anime
"RIN-NE" which started broadcasting on Saturday, April 4th at 5:30pm JST.
"RIN-NE" is the latest work of Rumiko Takahashi, one of the leading Japanese manga artists who is well known for
"URUSEIYATSURA", "Ranma 1/2", and "INUYASHA". This is an eagerly-awaited manga comic made into an anime.
PASSEPIED is excited to have such a big name tie-up, and the music which the world of "RIN-NE" meets much
PASSEPIED-like full of originalities and refreshing melodies, turned out to be one of their best.
On the M2 is "Love is Gold", which was used as an opening theme of solo live of bananaman titled bananaman live 2014
"Love is Gold".The band received countless requests from fans to make it into a CD. On the M3 is
"NEW MUSIC MACHINE", which is a cover of CORNELIUS one of the most famous Japanese musician.
"NEW MUSIC MACHINE" is on his best work "FANTASMA "released in 1997. The band includes a cover song
on every single and is acclaimed for their song selection and sense of arrangements. This time is not an exception.
From a major tie-up tune to a cover song, "TOKINOWA" is a complete work full of PASSEPIED's charms.
The cover sleeve was illustrated by the band's vocalist Natsuki Ogoda as always, and the limited edition
features a deluxe paper sleeve.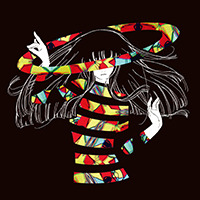 PASSEPIED New Single "TOKINOWA"
4/29/2015 ON SALE
(Limited Edition・SPECIAL PACKAGE) : WPCL-12067 JPY1,200(tax incl)
(Standard Edition) : WPCL-12068 JPY1,080(tax incl)
1.
TOKINOWA
*Ending theme of NHK E-TV anime RIN-NE
2. Love is Gold
*Opening Theme of bananaman solo live concert 「bananaman live 2014 『Love is Gold』 」
3.
NEW MUSIC MACHINE
*CORNELIUS cover
all songs
words by Natsuki Ogoda music by Narita Haneda
arranged by PASSEPIED
except "NEW MUSIC MACHINE"
words and music by Keigo Oyamada
[PASSEPIED PROFILE]
PASSEPIED are:
Natsuki Ogoda - vocal, illustration
Narita Haneda - keyboard, compose, arrange, produce
Masahiro Misawa - guitar
Yoshikuni Tuyuzaki - bass
Takuya Yao - drums
Japanese Pop/Rock group, PASSEPIED was formed in 2009, by a Tokyo University of Art graduate and keyboardist, Narita Haneda.
Since then, PASSEPIED are causing sensation in the Japanese music scene with their distinguished music theory and virtuoso technique.
From their unique pop sense absorbing the music from the 70's
to the 00's with a hint of Japanesque appearing and disappearing between notes, to the illustration/artwork and music clip
animation created by the band's own vocalist, Natsuki Ogoda, their
style is in a form of one fine composite art.
In 2013, they were named by iTunes Japan as one of their "Breakthrough artists of 2013", followed by the release of their
major debut full album "Ensyutsuka Syutsuen" in June.
Their sophomore album "MAKUNOUCHI-ISM" was released on June 18, 2014, and "MTV 81", MTV's project focused on Japanese music
/culture run a special feature coincide with the release.
Furthermore, PASSEPIED' s "Tokyo City Underground(English ver.)" will be used as an insert song on the upcoming movie
"APPLESEED ALPHA", the latest movie from Japan' s CG-animated sci-fi action
adventure based on the popular "Appleseed" franchise by the creator of "Ghost In The Shell" .
In October, the band released "MAKUNOUCHI-ISM e.p" which includes 4 tracks from the latest album "MAKUNOUCHI-ISM"
re-recorded all in English. The EP also includes a remix of "MATATABISTEP" by
Seiho and released on iTunes Stores worldwide. Starting November 14th, PASSEPIED successfully went on a nationwide
tour "MAKUNOSOTO-ISM" . PASSEPIED are keeping themselves busy for 2015,
making their first ever UK show at THE GREAT ESCAPE in May, and their new single "TOKINOWA" will be the theme
song for a new animation series "RINNE",which is based on a popular comic by Rumiko
Takahashi, widely known as the manga artist for "Urusei Yatsura" and "Inu-Yasha", etc. Also they have recently made a unique
PASSEPIED-style of Cornelius' "New Music Machine". What definitely will be
one of the highlights for them is their first ever solo headline show at Japan's legendary venue,
BUDOKAN in December, which was just announced.
PASSEPIED will continue working non-stop on stage and in the studio...But this is only just the beginning of their story.


"TOKINOWA" Lyrics

I'm saying goodbye to noisy proofs
I only feel saying hi to things I can trust
Please, I want to see and feel as I like
Give me the courage to pick out what's new
World and his wife only see one way
In such world we caught each other's eyes

Stumble across, luck out some way or other, side by side
Intentional coincidence, the act of destiny
When will we come together, well, who's behind me now?
Come on and turn around, I'm waiting with a same smile
You've got to realize

This and that, I look for reasons
Happy if I'm honest being tired in the search
Everyday has different answers
And you keep chasing them after
Stumble across, luck out some way or other, side by side
Intentional coincidence, the act of destiny
When will we come together, although I hate staying up late
Can I wait a bit more? Hope we will meet

Notice me by now
Nothing starts since nothing has ended, pretty complex
Joining in the line waiting for my turn, I'm almost there
Stumble across, luck out some way or other, side by side
Meetings and partings on the wheel of time

Past, future the earth revolves
You better find me even if I look different
I'm waiting with a same smile, in the same place
Let's finish it later
PASSEPIED sort un nouveau single, le premier de l'annee 2015 !!
Un single riche d'une double-collaboration et d'une reprise inedite !

PASSEPIED va encore nous emerveiller comme jamais.
<TOKINOWA> est leur premier single de l'annee 2015, 10 mois apres leur dernier album < MAKUNOUCHI-ISM>,
qui est leur 2eme album sur un label majeur.

<TOKINOWA> a ete choisi comme generique du dessin anime <RIN-NE> qui sera diffuse par 'NHK E tele',
a partir de samedi 4 avril a 17 :30.
<RIN-NE> est base sur le dernier manga de Rumiko Takahashi, une dessinatrice qui represente le manga japonais,
et dont les oeuvres, <URUSEIYATSRA>, <Ranma ?>, <INUYASHA> sont tres reputes.
<RIN-NE> est attendu passionnement par les fans.
Quant a PASSEPIED, c'est leur premiere grande collaboration.
Ce morceau est une fusion entre leur univers artistique et celui du dessin anime, sur une melodie pleine de fraicheur.
Ce serait un de leurs meilleurs morceaux.
Le 2eme morceau de ce single, <LOVE IS GOLD>, etait la chanson d'ouverture du spectacle de bananaman,
<bananaman live 2014 'Love IsGold'>.
Comme cette chanson a eu un grand succes, leurs nombreux fans avaient souhaite la vente de cette chanson.
De plus, il inclut la reprise d'une chanson de CORNERIUS, le leader de la sphere musicale japonaise. C'est
'NEW MUSIC MACHINE', issu de son album culte <FANTASMA>.
Leurs reprises sont toujours remarquables et tres appreciee grace a leur choix de chansons et a
leur maniere d'arranger et d'interpreter ces morceaux dans un style unique.
Avec la collaboration et la reprise, ce single contient tout les elements charmants et fantastiques de PASSEPIED.
La couverture de ce CD est illustree par la chanteuse Natsuki Ogoda, comme toujours, et avec une finition de
luxe en papier en edition limitee.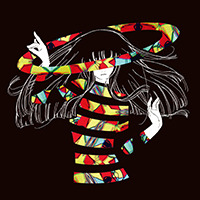 PASSEPIED NOUVEAU SINGLE <TOKINOWA>
VENTE AU 29 AVRIL 2015
(Premiere edition limitee) : WPCL-12067 Prix 1,200yen(TVA comprise)
*Emballage speciale pour la premiere edition
(Edition normale) : WPCL-12068 Prix 1,080yen(TVA comprise)
1. TOKINOWA
*Generique du Dessin anime <RIN-NE> sur NHK Etele
2. LOVE IS GOLD
*La chanson d'ouverture du spectacle de bananaman
< bananaman live 2014 'Love Is Gold' >
3. NEW MUSIC MACHINE
*Couverture du CORNELIUS
Toutes les chansons
Ecrites par Natsuki Ogoda
Composees par Narita Haneda
Arrangees par PASSEPIED
Excepte <NEW MUSIC MACHINE>
Ecrit et compose par Keigo Oyamada

[PASSEPIED PROFILE]
PASSEPIED
Chant: Natsuki Ogoda
Claviers : Narita Haneda
Guitare : Masahiro Misawa
Basse : Yoshikuni Tsuyuzaki
Batterie : Takuya Yao

Le groupe Pop/Rock Passepied a ete cree par Narita Haneda (clavier),en 2009.
Le nom de ce groupe, Passepied, trouve son origine dans le titre du morceau du compositeur francais Debussy.
Le groupe a fait sensation dans la sphere musicale japonaise, grace a sa theorie musicale
extraordinaire et a sa maitrise technique.
L'excellent gout de Passepied pour la fusion des elements musicaux de divers genres allant des annees
70 jusqu'aux annees 2000, ainsi que les travaux artistiques et les video-clip, realises par Natsuki Ogota (chant),
ont ete tres apprecies.
Ils ont sorti leur 1er mini-album <Watashi Kaika Shitawa> en 2011, puis leur 2eme mini-album <ONOMIMONO> en 2012
qui renouvellent encore tous deux les records du longseller.
En mars 2013, leur 1er single <Fever> est sorti, puis en juin, ils ont sorti leur 1eralbum complet <Enshutsuka Syutsuen>
sur un label majeur. Depuis, ils participent a de nombreux festivals de rock, et ont du succes aupres du public.
Quant aux evenements organises sous leur direction nommes <Impression A> et <Impression B>, qui avaient lieu a
Tokyo et a Osaka, ils etaient bondes.
En octobre, ils ont realise leur premiere tournee independante, <Impression HINODE>, qui a aussi affichee complet partout,
comme leur concert de supplementaire <Impression HINODE-bis>. C'etait un succes eclatant. En mars 2014,
leur 1er single double-face, <MATATABISTEP/Ano Ao to Ao to Ao> est sorti. Ensuite en avril, ils ont organise
leur 3eme evenement nomme <Impression C>, en invitant 9mm parabellum Bullet/clammbon/HIGE,
dont les billets ont ete epuises des le premier jour de vente.
Leur 2emealbum complet <MAKUNOUCHI-ISM>, est sorti en juin. De plus, avec leur morceau <Tokyo City Underground(English ver.)>,
ils ont contribue a la bande originale du film ≪ APPLESEED ALPHA ≫. Ce dessin anime est a l'origine de la serie ≪ APPLESEED ≫,
manga aventure SF de Shiro Masamune (l'auteur de Ghost In The Shell). Ce film est sorti dans de nombreux pays,
a commencer par les Etats-Unis et en Europe.
En octobre, via le reseau iTunes Store, ils ont mis en vente dans le monde entier <MAKUNOUCHI-ISM e.p>.
Il contient les 4 morceaux reenregistres en version anglaise de leur dernier album <MAKUNOUCHI-ISM>, et aussi le morceau
<MATATABISTEP> remixe par Seiho, un beatmaker.
A partir de novembre jusqu'a la fin de l'annee 2014, ils ont fait une tournee <MAKUNOSOTO-ISM>,
dans 14 villes a travers le pays, pour 15 concerts.
Le 15 novembre, ils ont sorti leur nouveau morceau <Zeitakuna Iiwake> qui est uniquement telechargeable sur l'Internet.
Et ils ne s'arretent jamais. En 2015, ils sortent un single <TOKINOWA>, et cette chanson est le generique de fin d'une serie de dessin anime
<RIN-NE> qui sera diffusee a partir du 4 avril sur la chaine 'NHK E tele'. En juin, ils vont organiser leur 4eme evenement
<Impression D> a Tokyo, Osaka, et a Nagoya, et ils viennent d'annoncer leur premier concert independant au BUDOKAN.


"TOKINOWA (Le Cercle Du Temps)" paroles

Fini de chercher les indices
Cherchons seulement la verite
Je t'en prie,
Je veux voir, je veux toucher, comme j'ai envie
Y a trop de choses inconnues
Donne-moi le courage de choisir

Dans ce monde ou,
Tout le monde fait comme tout le monde,
Comment croiser ton regard ?

On tourne, on tourne en rond, dans la ronde,
On se trouve, cote a cote
Le hasard fait expres ? Ou la faute au destin ?
A qui le tour d'entrer dans la ronde ?
Et qui se cache derriere ?
Alors retourne-toi, je t'attends, je te souris, je suis la

Trouver un millier d'excuses pour tout et n'importe quoi,
Si je peux etre moi-meme, ca me va

Et tu cours apres la verite,
Meme si elle change chaque jour

On tourne, on tourne en rond, dans la ronde,
On se trouve, cote a cote
Le hasard fait expres ? Ou la faute au destin ?
C'est peut-etre ton tour ?
Les nuits blanches, j'aime pas ca
Mais j'attends un peu, j'espere te voir
Il est temps, trouve-moi

Il n'y a pas de debut sans fin
Comme c'est complique !
Mais je fais la queue,
Patience, ce sera bientot mon tour

On tourne, on tourne en rond dans la ronde
On se trouve, cote a cote
Rencontres et adieux, sur le cercle du temps
Hier comme demain, la terre tourne
Tu me reconnaitras sans hesitation,
Parce que je t'attends, je te souris, je suis la
Alors, a bientot pour la suite
快步舞(PASSEPIED)2015年首張單曲即將發行!!收錄雙tie-up曲&翻唱曲的超豐富內容!
今年,除了將首登日本武道館舉辦公演的PASSEPIED,更陸續展開樂團史上最大規模的宣傳活動。2015年首張單曲"時之輪"是繼前作的第二張專輯"幕內ISM(MAKUNOUCHI-ISM)"之後睽違10個月的最新作品。同時亦強力tie-up從4月4日起於日本NHK教育電視台播出的熱門動畫『境界之輪迴』片尾曲!!

『境界之輪迴』是以『福星小子』『亂馬1/2』『犬夜叉』等作品而聞名、日本代表性著名漫畫家高橋留美子的最新作品, 在粉絲們眾所期盼下終於推出動畫版。亦是樂團史上首次大型tie-up作品,具有快步舞(PASSEPIED)獨特原創性與清新旋律的曲風,是完全契合動畫世界觀令人讚賞不已的佳作。
同時,副歌亦還收錄去年在香蕉人BANANAMAN單獨公演「bananaman live 2014『Love is Gold』」播放的開場曲而蔚為話題的「Love is Gold」。在眾多歌迷殷切期盼下終於收錄於實體CD裡。另外更翻唱了日本代表性音樂家CORNELIUS(小山田圭吾)於1997年發表的名作『FANTASMA』中的"NEW MUSIC MACHINE"。迄今每張單曲皆收錄翻唱作品的 快步舞(PASSEPIED),其受到高度評價選曲和編曲品味更是不容錯過。
Tie-up曲與翻唱曲的該張單曲,可說是淋漓盡致地涵蓋了快步舞(PASSEPIED)所有魅力的作品。另外, 本作的封面則使用主唱大胡田Natsuki所畫的插圖, 初回限量盤為豪華紙盒包裝。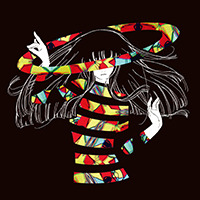 快步舞(PASSEPIED) NEW SINGLE "時之輪"
4月29日發售
(初次限量版):WPCL-12067 定價¥1,111(本體)+(稅外加)
※初次限量特殊包裝
(普通盤):WPCL-12068 定價¥1,000 (本體)+稅
1. 時之輪(TOKINOWA)
※NHK 電視台教育頻道 動畫「境界之輪迴」片尾曲
2. Love is Gold
※香蕉人BANANAMAN單獨公演「bananaman live 2014『Love is Gold』」片頭曲
3. NEW MUSIC MACHINE

all songs
words by 大胡田七月(Natsuki Ogoda) music by 成田羽田(Narita Haneda)
arranged by 快?舞(PASSEPIED)
except"NEW MUSIC MACHINE"
words and music by 小山田圭吾(Keigo Oyamada)

快?舞(PASSEPIED)
Vocal :大胡田七月(Natsuki Ogoda)
Keyboard :成田羽田(Narita Haneda)
Guitar :三澤勝洸(Masahiro Misawa)
Bass :露崎義邦(Yoshikuni Tsuyuzaki)
Drums :矢尾拓也(Takuya Yao)
2009年由成田羽田(key)為中心所組成。樂團名稱來自法國音樂家德布西的樂曲。以其卓越的音樂理論和技巧,同時緻密融合了70's~00's年代音樂的流行感、再加上主唱大胡田七月監製的Music Clip與專輯設計都蔚為話題。 2011年發表第一張迷你專輯「我開花了」、2012年發表第二張迷你專輯「ONOMIMONO」創下長賣熱銷紀錄。
2013年3月發表首張單曲「Fever」、6月發表首張出道大碟「演出家出演」。爾後陸續參加多場大型搖滾音樂節,並獲得好評,此外快步舞於在東阪主辦演唱活動"印象A"、"印象B(w/the band apart)"也宣告售罄。10月底至12月21日最終場赤坂BLITZ所舉辦首次單獨巡演"印象・日出(Impression HINODE)"、追加公演"印象・日出外傳(Impression HINODE-GAIDEN)"也都成功告捷銷售一空。
2014年3月發表首張雙A面單曲「 MATATABISTEP/那個藍色、藍色和藍色」,4月在第3場單獨企畫活動張 "印象C"上邀請特別來賓9mm Parabellum Bullet/clammbon/HiGE,當日便銷售一空。
在6月發表第二張大碟「幕之内ISM」。夏季起從北美和歐洲依序在各國上映的以"攻殻機動隊"聞名的士郎正宗所創作的SF冒險漫畫"蘋果核戰APPLESEED"系列為原作的電影『蘋果核戰記3:阿爾法 / Appleseed Alpha』,也使用快步舞(PASSEPIED)的"Tokyo City Underground(English ver.)"作為片中插曲。10月將專輯「幕之内ISM」中的4首收錄曲譯成英文詞並重新錄製,以及作曲家Seiho監製的「MATATABISTEP」Remix版收錄而成的作品「MAKUNOUCHI-ISM e.p」,透過iTunes Store於海內外數位發行。
11月起到年底舉辦全日本14個城市15場公演的全國巡演「幕之外ISM」。
11月15日發表數位限定新曲「浪費的藉口」。
2015年4月29日發表最新單曲「時之輪」。
6月在東京名古屋大阪以雙樂團登場型式舉辦第4場單獨企劃活動「印象D」
12月22日進行第一次的武道館單獨公演。

時之輪

揮別唯有紛擾的證明
只希望正確的東西 才有所開始
拜託 讓我實現希望相見相擁的心願
給予我 選擇所有新生事物的勇氣
在這無論任何人都向右轉的世界
與你的邂逅遇宛如奇蹟
偶遇 走出去就會相遇 轉回身就會肩並肩
偶然是一種刻意 是命運的使然
在不知不覺出現的圈上 開玩笑地說 猜猜我是誰?
多希望你能回頭 用同樣的笑臉在等候
讓目光在我身上駐留
對所有的事情都想找個藉口
找藉口找累了再誠實地回頭
今天明天都不斷變化的正確答案
你是否還情願繼續去探求
偶遇 走出去就會相遇 轉回身就會肩並肩
偶然是一種刻意 是命運的使然
在不知何時出現的圈上 儘管不擅長熬夜
請再多等待一些時候 為了能夠與你相遇
讓我們相知相識
說什麼沒有開始就沒有結束 真的很難
排在隊伍中等待著輪到自己 還差一點點
偶遇 走出去就會相遇 轉回身就會肩並肩
讓相遇和離別乘上時間的軌道
過去未來地球都在迴轉 即使容顏改變也能發現你
用同樣的笑臉等待 在同樣的地點等待
期待還有永遠